Today is an annual event, Art On The Square, here in Belleville, Illinois, at the Public Square (which is actually a circle, go figure!), located at the intersection of Illinois Route 159 and West Main Street. This festival was recently named the "#1 Art Fair in the Nation" by the Art Fair Source Book, according to Wikipedia. It draws artists and arty-type creatives from all over the globe, and showcases Belleville in a positive light. Belleville is located just east of St. Louis, Missouri, across the mighty Mississippi River, and is the largest county seat south of Chicago. My only son, 18-year-old John Michael, will be exhibiting a self portrait pencil drawing he completed for his senior art class at Mascoutah High School, in, where else, Mascoutah, Illinois! Mascoutah is a town southeast of Scott Air Force Base, Illinois. Mascoutah, the quiet, quintessential midwestern town, is primarily home for military families stationed at the Base. As you would imagine, the sleepy little town rolls up its sidewalks every night around 9 PM!
This is John's self portrait! (just kidding, son!) He has a sick, twisted sense of humor. I love him!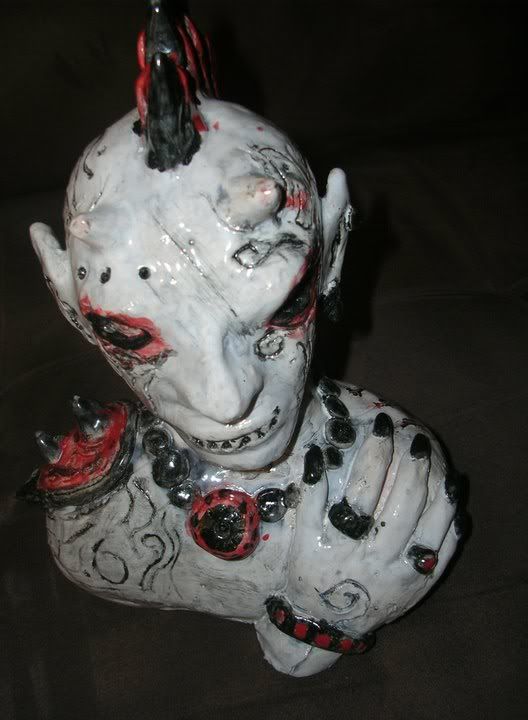 This is really him. Handsome devil, eh? Takes after Old Man!
The festivities continue on till Sunday, and will feature food, drink and live musical entertainment (Waterloo German Band? Can you say oompahpah?). It promises to be a great kickoff to the summer 2012 event calendar, and if you're anywhere near Belleville, you should give us a visit. A great time is guaranteed for all, as people watching and world-class art of this magnitude comes but once a year, right around this time every spring. This is the 12th annual event, with many more to come.
Tomorrow we pick back up with audio reviews and music happenings as usual. Until then, keep your tubes hot and your antenna up! See you then!