Woodstock legends Canned Heat appeared live in concert last Sunday night at the recently-renovated Wildey Theater in Edwardsville. While not admittedly a blues-based rock fan, I decided to check out the theater, as the venue has been getting good reviews as a nice place to sit and watch a concert. Since I like to sit (hehe), I figured it would be a good gamble that the seats would be comfortable, and since I was being treated (gas and ticket), I figured, what the hell, I'm in.
First off, the theater was nicely appointed with the usual art deco accoutrements, comfy seating (!), and an intimate audience capacity, around 300 or so. Sponsored by local FM rocker WDLJ 97.5 Carlyle, it was well-attended, and among the attendees were a few friends from out that way, as well as some hometown diehards I've known since the 70's. All in all, a good time.
Canned Heat served up the standards (predictably opening with "On The Road Again"), the radio hits they made famous, and offered some perfunctory exercises along the way. "Fried Hockey Boogie" was their closer, and there was nary a hint of "Reefer Blues" all night, a song I amazingly heard back in the day on a gold-colored slab o' vinyl (bootleg, of course, from some other legendary festival like Atlanta or Miami Pop or some such).
The most confusing part of the band's presentation was the fact that they insisted upon switching instruments upon introducing every song! The drummer never left his assigned post behind the kit, but the frontline shuffled listlessly throughout the evening. This caused me to believe that they were possibly too cheap to hire a really good bassist, as this was what they all defaultedly switched to. As a bassist myself, my ambivalence toward blues-based rock is that, when doing 12-bar progressions, bassists usually mail in their performance, as the parts themselves get pretty perfunctorily repetitive and boring to perform (at least to me anyway). They all seemed content to alleviate this in the same way... bass solos! As a bassist, I HATE solos on my instrument, and can't tolerate bassists (musically, not personally. Some of my best friends are soloing bassists.) who solo. Having said this, I categorically refuse to solo on bass, citing the ensemble nature of my professional role as sideman, and out of pure respect for said role.
Note to Canned Heat... I'm a great bassist. I don't solo but I'll play Fried Hockey Boogie for food, with but one caveat: youse gotta do Reefer Blues as well, then I'm all-in!
The band back in the day-day: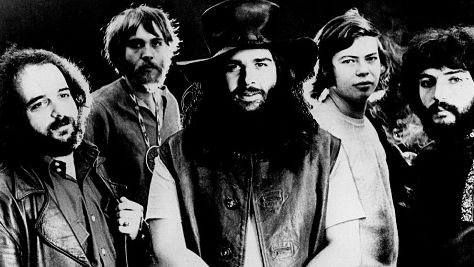 Thanks to my boy Todd for footing the bill on a fun outing!
Stay tuned for more stuff... Till then, keep your tubes hot and your antenna up. See all y'all next time!