By now, most know me as a Klipsch fanboy (good or bad).
I'm not ashamed.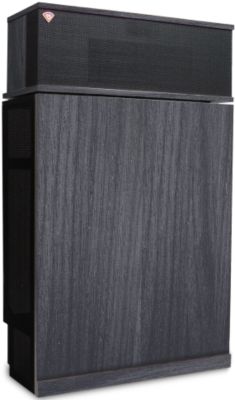 It's not like I'm in a 12-step program over my admission, I realize that opinions are mixed.

Those who love the "you are there" effect of horns will admire the beauty of workmanship, the immediacy, and all the other applicable adjectives one can conjure when reviewing a speaker as well-respected as these. The blatant fact is that they really do sound fantastic.
They're three-ways, like my Fortes, only hornier! The bifurcated bass horn uses room corners to produce bass deep into the 30 hz range, and adds to the size and sheer majesty of the sound. They are toed-in (by virtue of their rear side fitting tightly into a corner), at a 45 degree angle by default and are thusly known as corner horns (think EV Patrician, Baronet, Regency, the latter two with cabinet build specs licensed from Klipsch). They throw a huge soundstage, as wide and as high as your physical room dimensions can support and more.
Many owning Khorns claim that placement across the long wall of a listening room broadens the perception of the wide soundstaging effect even further, but in an attempt to eliminate visible wiring, and computer monitor/TV placement in proximity with my wired cable/internet connection, mine sit on either side of a 15' wide room. This is more than adequate to fill my dedicated space with balanced sound, and I also use a 4-watt SET tube amp (Decware Zen Triode Select, previously reviewed here) to power these sensitive (105dB, certainly among the highest) monsters to more than adequate levels.
They LOVE tubes.
Jazz shines, historically, but, all forms of well-recorded music benefit from such a time-honored design. 65 years on, Klipschorn is the only model loudspeaker that has been continuously in production for that entire time.
PWK knew what he was doing in that Hope, Arkansas shed!
Here's some details (for all you objectivists):
FREQUENCY RESPONSE 33Hz-17kHz ± 4dB
SENSITIVITY 105dB @ 1 Watt/1 meter
POWER HANDLING 100 Watts max continuous (400W peak)
MAXIMUM SPL 121dB
NOMINAL IMPEDANCE 8 ohms
ENCLOSURE TYPE Fully horn-loaded
CROSSOVER FREQUENCY HF: 4500Hz
MF: 450Hz
TWEETER K-77-F 1" (2.54cm) Phenolic diaphragm
compression driver
HIGH FREQUENCY HORN Exponential
MIDRANGE K-55-X 2" (5.08cm) Phenolic diaphragm
compression driver
MID-FREQUENCY HORN Exponential
WOOFER K-33-E 15" (38.1cm) Fiber-composite cone
with a trihedral exponential folded horn
DIMENSIONS 50.75" (128.9cm) H x 31.25" (79.38cm) W
x 28.25" (71.75cm) D
WEIGHT 175 lbs. (79.5kg)
ENCLOSURE MATERIAL Birch Plywood and MDF
FINISHES Walnut Lacquer, Cherry Lacquer, Black Lacquer (mine are black!)
Volti Audio is carrying Klipschorn and Belle Klipsch to new aesthetic heights in the modern age:


Ooh, baby.
Klipschorns still do it for me, after 65 years in production!
Thanks to sheltie dave for enlightening me.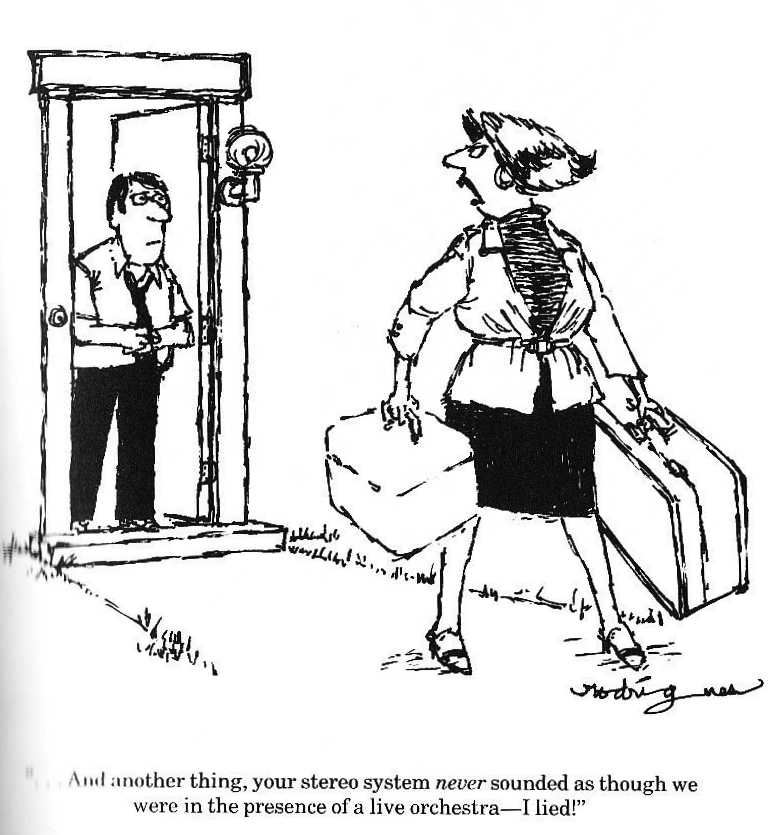 Ouch!
Till next time, kiddies, keep your tubes hot and your antenna up! Bye bye!