Today kicks off the Cards' battle for the 2013 season's NLCS pennant, as they face their arch division rivals Pittsburgh in St. Louis' Busch Stadium. Mike Shannon and John Rooney will handle the radio chores as usual, while Dan McLaughlin, Rick Horton, and Al "The Mad Hungarian" Hrabovsky (think 70's long hair, Fu Manchu, and plenty of walking around, talking to himself and the mound) will do TV duties for today's festivities.
With the majestic Gateway Arch on the field and visible in the distance, this has to be one of the most picturesque views in all of sports. Old school ballpark architecture at its modern-day best!

Today's game's particulars:

First pitch: 5:07 p.m. EST
Adam Wainright (19-9, 3.30 ERA) takes the mound in the 2013 Central Division NLDS opener against the Pirates" AJ Burnett (10-11, 2.94 ERA).

Some cumulative stats for both teams for the 2013 regular season:
Runs: The Pirates scored 634 runs while St. Louis has drove in 783.
Batting average: Pittsburgh batted .245 while the Cardinals hit .269.
On base percentage: The Pirates are at .313 this season while St. Louis comes in at .332.

Slugging percentage: Pittsburgh is at .336 heading into today's game while the Cardinals are at .401.

The St. Louis Cardinals fielded a major-league-record 20 rookie players this season. Mid- and high-level minor-league farmhands figured mightily in this all-time stat, making first-year manager (former Cards catcher) Mike Matheny immediately successful with such a ballsy (!) move over the course of the season. The beautiful Birds On The Bat is one of the most iconic sports logos ever.
The new-for-2013 alternate home jersey (below left) is... (suffice it to say) ... interesting.
High Socks (pictured center) Sundays has been a great hit for STL fans at Busch Stadium.
The gray away uni (pictured right) features a complimentary alternate navy/red cap.
OUT!!!
First round action of the 2013 NL Central Division playoff series, leading up to the NL Championship Series, is scheduled for telecasts as follows:
Game 1: Pirates at Cardinals, 5 p.m. EST, Thursday, Oct. 3,
TBS
Game 2: Pirates at Cardinals, 1 p.m. EST, Friday, Oct. 4,
MLB Network
Game 3: Cardinals at Pirates, TBD, Sunday, Oct. 6,
TBS
Game 4: Cardinals at Pirates, TBD, Monday, Oct. 7,
TBS
or
MLB Network (if needed)
Game 5: Pirates at Cardinals, TBD, Wednesday, Oct. 9,
TBS (if needed)
Shortly after reporting to spring training in 2011, Cards' ace Adam Wainwright had experienced significant discomfort in his right elbow while pitching batting practice on February 21. Three days later, the Cardinals announced that Wainwright would miss the entire 2011 season––and possibly the first three months of the next season––after finding ulnar collateral ligament damage necessitating Tommy John surgery (TJS).

After successful rehab following TJS, he continues to be a major contributing force to the Cardinals, and an inspiration to his young teammates, as is Chris Carpenter, another longtime Cardinal starter/Cy Young winner/Tommy John survivor.

Go Waino! Perennial Cy Young Award candidate!!

Yadier Molina has been collecting defensive honors since the 2012 season ended.
Having already earned his fifth straight Gold Glove, Molina was announced as the National League's Platinum Glove Award winner at Rawlings' Gold Glove Award ceremony in New York City. The American League honor went to Texas third baseman Adrian Beltre. All of the Gold Glove recipients were eligible for the pair of league Platinum Gloves, with the two winners determined through fan voting. 2012 marked the second year that Rawlings has handed out a Platinum Glove.
Molina has taken home both NL honors.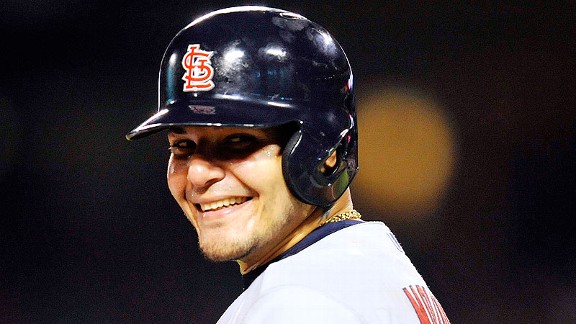 Yadi (as he's affectionately known to his fans around the League) raps lyrics as well as he does baseballs (consistently among the batting leaders in the NL this year, as well as generally acknowledged as the best defensive catcher currently playing)! He invested in a fully-outfitted recording studio installation (tie-in!) from my friends in pro audio at Fairview Heights, IL Guitar Center a couple years ago!
Hip Hop Hurray!! And ya don't stop (and neither do we)!

Keep your bats up, and your pitches down, sports fans! And... GO CARDS!!!